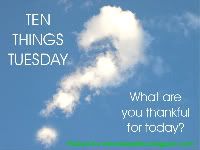 1.
This family
that God has blessed me with (it would probably be cheating to list each member individually b/c then I'd only need to think of 4 more things).

2. Tiny Talk Tuesday, which always gives me a smile and a giggle, and has got me thinking about the cute and profound things my kids say each day (thus, taking the focus off the not-so-cute and frustrating moments). This leads me to my submission for Tiny Talk, which is not so much talking this week...
4. My children can and will dress themselves! Meet Shea, almost 3. :) (Don't you just love how she's coordinated the many variations of stripes?! LOL!)
"Look Mom, I Do it My OWN Self!"

5. On that note, I am so very thankful for the new computer. It is a miraculous experience to post on my blog without the computer freezing and losing all my words! It is so fun to have 14 different applications open at once and still be able to navigate through cyberspace. Oh, the joy!

6. The sun is shining and the sky is clear blue! Oh, how I love spring (well, really I LOVE summer, but spring means that 30 degree weather is on it's way)!!!

7. My husband booked his summer vacation time. We get to drive down to Reno to visit his brother, sister-in-law, and 3 great kids - for 2 weeks! Yay!!! Which leads to several other things I'm thankful for, one of which is that...

8. Pat is a hard-working man who provides all that we need and many things we want. I love him more as each anniversary goes by (how is this even possible?).

9. In case you missed it this weekend - Jesus is risen! This isn't some event that happened in history, but a truth of TODAY. Christ lives, and the same power that God unleashed to resurrect His Son is within each of us who call ourselves His.

10. The other part of this weekend - the candy is almost all gone. Which means I can get focussed on my post-baby weight-loss regime, again.

And, since counting has never really been my forte (lol, okay, okay - I simply must add this very important thing I'm thankful for)...

11. I am soooo enjoying this week of no school. The kids and I are just hangin' out, relaxing, having fun. I typically enter into school breaks with an "oh no" attitude, and I am so thankful to the God who answers prayers that He changed my attitude to "I can't wait!" What a joy to have a new perspective.

I am blessed, and I could go on (obviously), but I'll save some for next time!